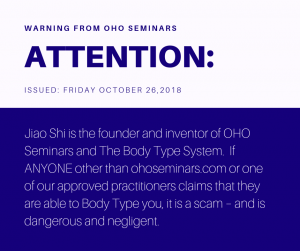 It has come to our attention that there have been claims by people outside of OHO Seminars that they can do Body Type System analysis.  This is incorrect and reckless.
Jiao Shi is the founder and inventor of OHO Seminars and The Body Type SystemTM.  If ANYONE other than ohoseminars.com or one of our approved practitioners listed in the link below claims that they are able to Body Type you, it is a scam – and is dangerous and negligent.
Our providers go through rigorous training and testing that enables them the ability to practice the functional medicine that goes along with The Body Type System Diagnosis and treatments.  This includes acupuncture, herbs, and Traditional Chinese Medicine.
Trained & Approved Body Type System Practitioners
Please let us know should you hear of anyone making such claims by emailing us at theohoteam@ohoseminars.com.